Neuron
Top 10 UX/UI Trends for 2021
Creative Director Matt Stoner shares his predictions for the year ahead.
As a designer, it's easy to have a love/hate relationship with trends. On the one hand they can push an industry forward and help new ideas or approaches come to the forefront. Limits are pushed, good ideas rise, bad ideas die, and innovation happens… hopefully.
On the other hand, trends can result in a sea of sameness. It's hard not to think of a yogurt brand that popularized a particular pink Pantone and general product aesthetic. This aesthetic trend was seemingly everywhere — from direct to consumer mattresses and suitcases, to beauty products and even my doctor's office. When a trend catches on and everybody catches up, you have to innovate again to stand out. Design is a cyclical, iterative process. The work is never done.
And yet here I am, sharing trends for the year ahead. Let's dive in.
1. Custom illustrations
While some say illustration is not really UX, aesthetic usability effect is one of the "Laws of UX." Users often perceive aesthetically pleasing designs as being more usable. Illustration seems to be everywhere, but bold colors, freehand drawing, and pattern work have emerged as a trend.
Source: Apple
Bold colors as a trend can be attributed to Apple, often a trendsetter, who pushed it forward in their design and campaigns for their new Big Sur operating system.
Source: slite.com
The emergence of hand-drawn illustration styles is a reaction to the perfect, polished visuals and experiences, to add a sense of humanity and imperfection. This can be a subtle, effective tactic for creating trust with consumers, and conveying a less serious tone. Patterns and abstract geometry can help convey abstract concepts, particularly for processes that are hard to explain or can't be done through photography.
2. 3D Renders & Depth
I see the trend of 3D renders and depth continuing into 2021. This is an evolution from the flat and flatmorphic styles we've seen explode over the last few years. 3D rendered style takes this a step further and owes its influence to the boom in gaming, advancement of rendering engines, and products geared at helping simplify the process for designers to create fast beautiful rendered 3D scenes in the cloud.
Source: Google Cloud Next
Drawing from game design, and their explorative nature, Google uses this style to entice visitors to learn more about its Healthcare Security products. It brings life to an otherwise boring topic, and you just want to keep going. Combined with animation, this 3D rendered style can perfectly complement a brand's messaging, and metaphorically explain complex processes.
3. Storytelling
As so many of us continue to increase the time we spend reading, learning, and exploring online, novel ways of telling stories digitally is something that will continue to emerge. In the editorial world we're seeing some new and interesting ways of telling stories online. The New York Times even has an "Immersive" section of its online publication with stories that push the traditional boundaries of the concept of an article is a great example.
Source: New York Times, Do These AI Created People Look Like You?
Source: New York Times, Do These AI Created People Look Like You?
With one story investigating the boom in AI-created photographs of people used for avatars and online identities was especially compelling. Readers can scroll over static images that morphed to create new, seemingly real faces. The Times built this out further by allowing users to change parameters and produce their own faces. As a result they were able to bring their story to life in letting readers explore the prompt: "Do These AI Created People Look Like You?"
4. Design Systems & Ops
In 2020 is a year that demonstrated the importance of design systems. At Neuron, we had many conversations with product teams looking for a design system. Without one, they found the unexpected shift to an entirely remote product team challenging to manage. Without a design system, we heard time and again, that it was hard to scale at the rate that this year demanded. It is important to have a single source of truth for cross functional teams. Having a design system can save both designers and developers time. Having a well documented design system makes collaboration, onboarding, and general production work easier for designers and developers. It can be the first place people look when they have a question.
Source: Mina Markham, "Pantsuit: The Hillary Clinton UI pattern library"
Source: Multiplayer editing in Figma
We also saw more teams embracing collaborative design tools this year. Our company's shift to Figma in recent years has made our processes much more efficient. Having shared libraries, working together in real time on design iterations, and having seamless handoff to developers has helped us immensely, especially while working remotely. If they continue to develop and release new features and plugins, I think we'll see Figma emerge as the software of choice for design teams in 2021.
Source: Mailchimp, a brand that consistently sets the standard for great UX writing.


5. UX writing & microcopy
In 2020, the number of job openings for UX Writers exploded. There is a huge need for companies to understand their customers, who they are speaking to, and balance their writing in a way that fits their brand tone, values, and attitude. Beyond tone of voice and marketing, writing is increasingly important in orienting a user, letting them know what's needed, how to do it, and providing feedback.
Source: a confirmation email from Turbo Tax
We've all seen bad examples of UX writing and copywriting. No context, confusing language, no solutions. We also tend to remember the better experiences we've had with companies who have invested strongly into getting this right, like Mailchimp. As the field of UX writing booms, we hope to see writers involved at all stages of the design process, but in the early stages especially.
Source: Atlassian's content guidelines
Atlassian is another great example of a mature company with robust standards for content. They've included these standards in their design system, which can serve as a great resource for anybody looking to learn more.
6. Uninterrupted UX
It goes without saying that this is often our goal as user experience designers, but there are some strategies I've seen picking up steam to help reduce friction in areas of product design. One such example is the concept of password-less login. The average person has 100 registered accounts to a single email address. And 86% of people reuse those passwords, which then raises security concerns but remembering them all feels like an impossible task. The option of logging in without a password immediately forgives us for our forgetfulness, or in our unwillingness to use and maintain a password manager. By requiring only an email address for account creation and login, product teams are sparing users the burden of yet another password to remember. This streamlines the experience for the user and cuts down on errors. For designers it's one less UI that needs to be created and on average users gain faster access to their accounts.
Source: Medium's uninterrupted login flow.
Medium was one of the first sites I saw implement "magic links," which continue to be popularized. They simply select the button, receive instructions to check their inbox, and click the link in their email to enter the site.
Alerts at the site of an action is something else I expect to see more in 2021. This would be instead of a modal dialogue in the center of your screen, which requires reading and moving the mouse to take action. For example, placing a binary select modal in a smaller format, and beneath the element that's selected to invoke it, will reduce mouse movement, and help people accomplish tasks faster. This is related to Fitt's Law: the time to acquire a target is a function of the distance to and size of the target. When you are using a piece of software all day, these precious seconds add up and make a world of difference. My own team recently made a decision to stick with Asana over another project management software because of the little things they do to save time and increase efficiency.
Source: Khan Academy's accessibility visualization toolkit
7. Accessibility
We've talked about accessibility before but — for both ethical and legal reasons — I expect these conversations to continue. For any remaining skeptics, I want to begin by addressing the myth of the minority user. Many people consider those with disabilities to a small subset of their users, an edge case even but the reality is that almost 1 in 5 Americans has a disability. 54% of Americans with disabilities go online. Thankfully, the world is starting to recognize that the web should be designed for everybody:
"The web is fundamentally designed to work for all people, whatever their hardware, software, language, culture, location, or physical or mental ability. When the Web meets this goal, it is accessible to people with a diverse range of hearing, movement, sight, and cognitive ability." — WC3
And that it is a right, not a privilege. Currently, only public sector websites must comply with Web Content Accessibility Guidelines 2.0, which holds websites to accessibility standards that are similar to those set for the built environment. In the next year, and for years to come, we will see pressure put on the private sector to begin to comply. There is of course the ongoing involving Dominoes, which will set an important precedent. Looking just north of the border in Canada, private sector websites in Ontario will have to comply with WCAG by the end of this year.
Source: Atlassian's inclusive language guidelines
When talking about accessibility, I feel it is important to also explore inclusion. The Atlassian Design System has an excellent section on inclusive writing that addresses common examples of words and phrases that are distasteful, or that we don't think are triggering, and offers solutions for what to write in exchange. For example they suggest, replacing words like "crazy" with "wild" or "intense."
8. Designing for mental health
This year has accelerated the trend in products and services for mental health, and awareness around designing for mental health. Many of us watched The Social Dilemma, a documentary that highlights the toxic nature of many social media apps and many of us have done "digital detoxes" to improve their wellbeing and productivity.
Source: Apple
As mental health has become increasingly important to users, product designers have had to account for it in their work. Apple's Screen Time feature for example aims to address growing concerns with device usage and smartphone addiction, by making users aware of the amount of time they are spending on their phones and which apps they're using.
Source: Headspace
Additionally, we've seen meditation and mindfulness apps thrive in 2020, something that I expect will continue into the new year. Platforms for virtual consultations and appointments have also seen mass adoption out of necessity during the pandemic. In addition to making mental health care more affordable, delivering these services virtually offers convenience too. I expect that much thought and care will go into the UX and UI for these experiences in 2021.
9. Immersive experiences
Personally, this has been most interesting to me in recent months. Immersive experiences aim to recreate experiences one would have in the physical world, but online. Google Arts & Culture has helped museums recreate their galleries online. Any institution can use this to create their hub, curate their galleries, and even lets users walk through their halls. What is so great about this digital experience is that institutions have creative tools at their disposal to recreate the experience of learning about a piece of art, in great detail and high resolution, from their laptops.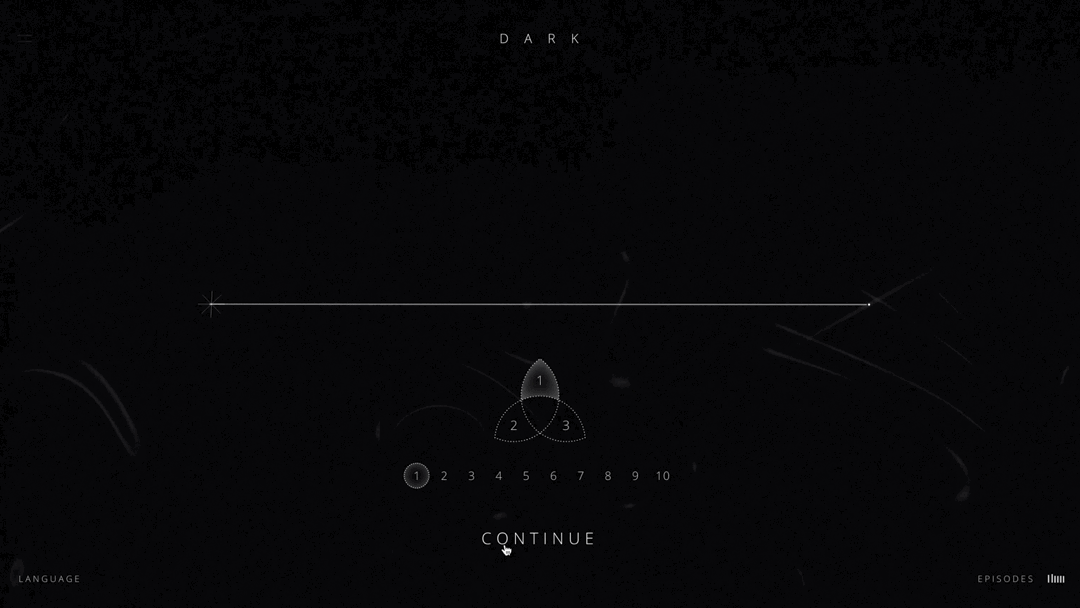 Source: Netflix's Dark
With the proliferation of media and so many choices of things to watch, I believe we will see more experiences that aim to tell the stories in new and different ways, as a supplement to the content itself. This reminds me of the leaflet that accompanied vinyl records and CDs. The Netflix show Dark has an immersive web experience that lets you explore the interconnectedness of the characters and see what happens to them through the course of the series. I think experiences like this can help create stronger franchises with more loyal and engaged fanbases.
10. Privacy
The California Privacy Rights Act (CPRA) passed this November, which should initiate further adoption of strict regulations on what personal information businesses can share or retain. California tends to lead the charge on these issues, and set the stage for widespread implementation, so I hope and expect to see similar efforts across the country.
Source: Facebook's Privacy Checkup
Find more examples in the recording
If you weren't able to join the Beer and UX event and our interested in hearing more about each of the trends listened, we've shared a recording of the full presentation on Neuron's YouTube channel. Additionally, we've compiled the many great questions and resources shared by attendees in another post.
Before signing off, I'd love to know: what are you hoping to see more (or less) of in 2021? If you're looking a for a partner in innovative UX/UI design to bring your brand and product to the highest standard in 2022, contact Neuron today. We use industry best practices to give your users the best possible experience - learn more about our process here.
Every month Neuron hosts a monthly meetup called Beer and UX, where designers and design enthusiasts gather to learn, discuss, debate, and hear from design practitioners on everything from collaboration, to privacy.